Solicitors' boost for Shropshire show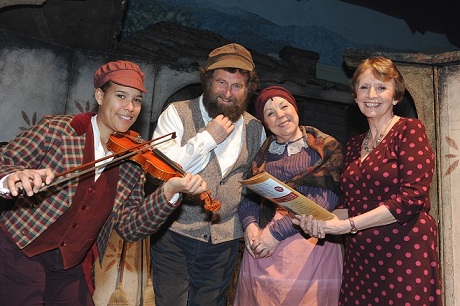 A leading Shropshire law firm is continuing its valuable support of the county's arts scene.
Wace Morgan Solicitors, which has three offices in Shrewsbury and one in Newtown, provides regular sponsorship for local events, shows and performances.
The firm has recently given a big boost to an amateur production staged at The Theatre Severn – Fiddler on the Roof, performed by the Shrewsbury Amateur Operatic Society.
"It was a fabulous show put on by very talented Shropshire people and we are pleased to be able to support them as part of our on-going links with the local arts scene," said Diana Packwood, managing partner of Wace Morgan.
Steve Thomas, chairman of the operatic society, said that he was very grateful for the sponsorship.
"Working with respected local businesses such as Wace Morgan enables us to put on successful shows for the people of Shrewsbury and beyond and their financial contribution to making this happen is very much appreciated.
"We are an amateur group always striving for professional standards in whatever we put on stage and this is achieved through hard work and dedication from the director, musical director, cast and all the people working behind the scenes. None of this needs money, just commitment and enthusiasm, but the missing bit is the cost of theatre hire, scenery, costumes etc. This is where the generous sponsorship from Wace Morgan helps us to complete the 'package'."
For further information please contact Sam Briggs on 01743 280 120