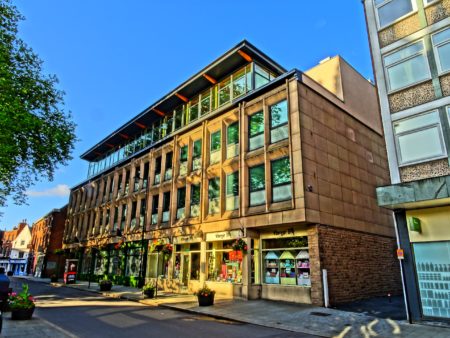 Wace Morgan Solicitors provides legal services to clients in Shropshire and Mid-Wales. Our Shrewsbury Office is located on St Mary's Street in the town centre.
We are committed to providing an accessible venue for all of our clients.
We have a fully accessible building with step free access throughout, as well as accessible bathrooms on all floors. Our friendly and welcoming staff are happy to assist in any way required.
We have evacuation procedures in place for disabled visitors and can provide large-print documents upon request.
If you have any questions regarding accessibility, please feel free to contact us on 01743 280100
At a Glance
Level Access
There is level access from the main entrance to:
Visual
The walls and the doors have high colour contrast.
We have information in large print.
Getting here
21 St Mary's Street
Shrewsbury
SY1 1ED
Travel by public transport
You can get to Wace Morgan Shrewsbury Office by bus and train.
The closest bus stop is directly opposite our office on St Mary's Street. St Mary's Street is quite a busy road – There is a safe crossing on the corner of St Mary's Street and Castle Street, at the top of Pride Hill. The bus stop is 0.1 miles / 0.2 km from Wace Morgan Shrewsbury Office.
The nearest train station is Shrewsbury. The train station is 0.3 miles / 0.5 km from Wace Morgan Shrewsbury Office.
Shrewsbury Train Station is approximately a 10 minute walk from our office.
There are two walking routes:
Castle Street: This is the road leading from the station, past Shrewsbury castle and to the top of Pride Hill. It is the most direct route, however this does involve quite a steep hill.
Darwin Centre: To avoid a steep incline, walk along Meadow Place (opposite the station) and turn left onto Raven Meadows. Enter the Darwin Centre on the left, and take the elevator to the 1st Floor. Exit the centre onto Pride Hill and turn left for St Mary's Street
You can get a taxi with Shrewsbury Taxis by calling 01743 242424. The taxi company has  wheelchair accessible vehicles.
 Parking
There is a drop-off point at the main entrance. The drop-off point does not have a dropped kerb.
There are loading and unloading spaces located on St Mary's Street without a dropped kerb.
If you require an accessible drop-off point, we can reserve a space in our courtyard – please call reception to book this in advance of your appointment.
Arrival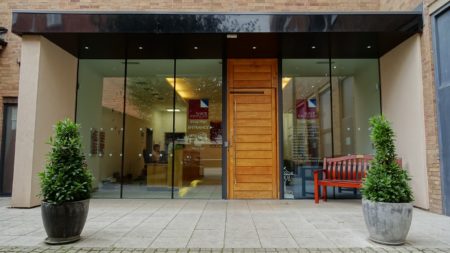 Path to main entrance
From the street to the main entrance, there is level access.
The path is 1000mm wide, or more.
Main entrance
The main entrance has level access.
The main door is side hung and manual.
The door is 920mm wide.
There is step free access to our office from St Mary's Street.
Please be aware that from time to time there may be moving vehicles in the courtyard.
Our front door is manual, however a receptionist will always be on hand to open the door for you when they see you approach.
Getting around inside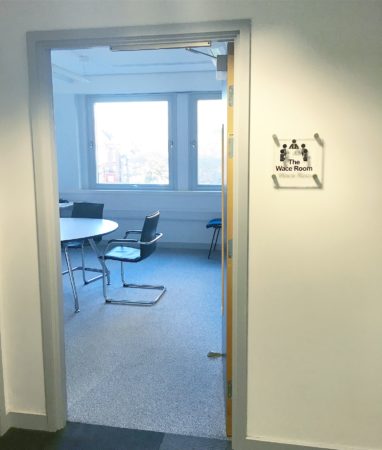 Visual Impairment – General Information
We have high colour contrast between walls and doorframes.
Reception
From the main entrance to the desk, there is level access. The route is 920mm wide.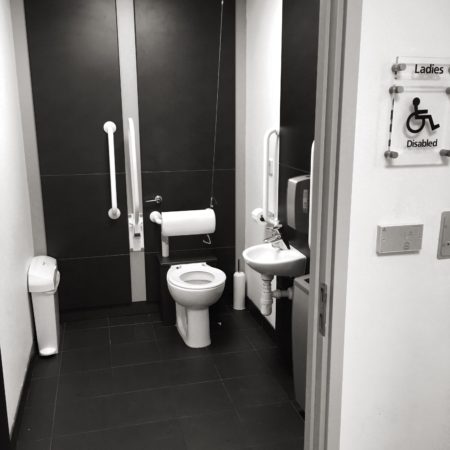 Meeting Rooms
From the main entrance to our meeting rooms there is level access via a lift, which can access all floors.
Our meeting room doors are 880mm wide.
Accessible Bathrooms
We have fully accessible bathrooms with on all floors.
The bathroom doors are 880mm wide
Customer care support
Accessibility equipment
The nearest toilet area for assistance dogs is located opposite the office in St Mary's Churchyard.
We are able to provide an ordary 13amp socket to charge mobility scooters or battery powered wheelchairs.
You can hire mobility equipment from Shopmobility Shrewsbury (Raven Meadows Multi-Storey Car Park) by calling 01743 236900.
Emergency evacuation procedures
We have emergency evacuation procedures for disabled visitors.
We complete a Personal Emergency Evacuation Plan for all disabled clients when they attend an appointment in our offices. This is kept by Reception and our Operations team, and in the event of a fire this plan would be enacted by these staff members.
Customer care support
We can provide information to clients in large print if requested.
Guide last updated: 18 March 2019