Wace Morgan Family Mediation Service has been running since 1996.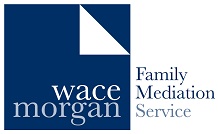 Mediation is an opportunity to make family arrangements without involving the court. As from 22nd April 2014, it is necessary to attend a Mediation Information and Assessment Meeting (MIAM) before making an application to the court about children or finances. Our local courts expect both applicants and respondents to attend a MIAM, if possible before going to court, and they are likely to adjourn matters if no MIAM has been attended.
We can mediate with many different types of clients on issues concerning children or finances:-
Married or cohabiting couples who are separating or divorcing
Civil partners or same-sex couples who are separating
Grandparents who wish to arrange contact with their grandchildren
Former partners who wish to reconsider arrangements for their children or financial support
Couples who are considering separation and wish to agree arrangements in advance
Couples who are intending living together or marrying and wish to avoid future disputes
In the breakdown of a relationship conflict may be inevitable – but wasting time and money is not. Conflict only adds to the misery of the breakdown of a relationship. Finding solutions together to the issues will lessen the misery and help you both look to a more positive future. Mediation is confidential and can provide the most economical and effective solutions to your dispute.
We are able to arrange appointments in the following locations:
Telford – Meeting Point House, Southwater Square, TF3 4HS
Oswestry – The Whole Life Christian Centre, Cabin Lane, SY11 2LQ
Church Stretton – Silvester Horne Institute, High Street, SY6 6BY
Welshpool – Town Hall, High Street, SY21 7JQ
Newtown – Wace Morgan Tomleys, 31 Market Street, SY16 2PG.
We have a contract with the Legal Aid Agency to provide mediation with the benefit of legal aid. Our brochure, our leaflet about our fees and legal aid and our leaflet about our assessment meetings can be accessed here:
Please have a look at the following video for more information about mediation.
https://www.youtube.com/watch?v=va59Ksk6XZQ
For further information or to book an appointment please contact our Mediation Co-ordinator, Steph Kitson on 01743 280 137 or mediation@wmlaw.co.uk
We are Members of:
–          Law Society's Family Mediation Accreditation Scheme
–          Resolution
–          Family Mediator's Association
Esther Evans
Associate / Family Mediator

T: 01743 280 147
E: esther.evans@wmlaw.co.uk
Stephanie Kitson
Mediation Co-ordinator

T: 01743 280 137
E: stephanie.kitson@wmlaw.co.uk